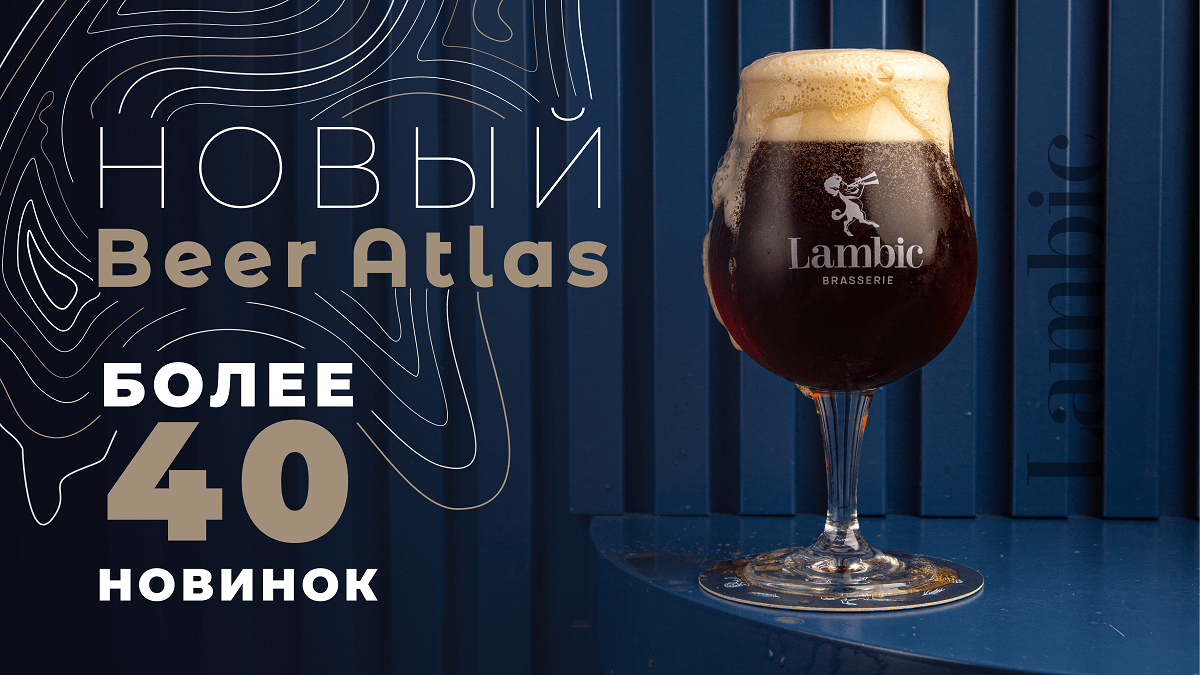 Welcome to our new updated atlas. We added not only more than 40 new positions, but also photos of bottled beer with a beer dictionary at the end.
This time we have special exclusives on taps:
Viven Champagner Weisse (Viven Champagne Weiss) is a wheat ale, slightly hazy, with a dense head of white foam. The refreshing taste has a slight honey sweetness and pleasant hints of orange and lemon. Champagne yeast is used in the preparation of this beer. Viven is a Belgian brewery by Tony and Crystal Tran, who have been brewing their lifelong passion for over 20 years.
Also new from a family brewery like De Dochter van de Korenaar. Translated into Russian as «Daughter of the barley ear». This is an old Flemish expression that has been applied to beer since at least the 16th century, and has now become the name of a small family brewery from the Belgian enclave of Baarle-Hertog. The variety from them is Belle Fleur IPA (Belle Fleur IPA). This is a light, transparent IPA with pronounced hop bitterness, citrus, floral notes in aroma and taste thanks to dry hopping.
The good old Leffe Brune is also returning — a dark abbey ale, now brewed in Russia under license, but nevertheless with the same Belgian yeast and with the same caramel sweetish taste inherent in it.
A tap with dark English beer is occupied by a real English Stout — Collin's Stout. Barton Brewers Union yeast is used in the production of this variety, which is particularly active in the fermentation process and gives the beer a clean and rich taste of dark beer.
And on the guest tap now we have Waterloo Récolte, a distinctive Belgian product that comes with ingredients from the fertile soil of the plains of Waterloo. This refreshing seasonal beer is currently brewed on the farm of Mont Saint Jean, the battlefield of Waterloo.
There are no less updates in the assortment of bottled beer!
The addition to Trappist beer is the return of Engelszell Benno — the beer is brewed in the traditional dubbel style and has a light brown color, the brewery itself and the monastery are located in Austria.
Samples of the new brewery De Leite Brouwerij (De Leite Brouwerij). Brewery founder Luc Wermeersch is experimenting with sour ales. Now the brewery has already installed 105 barrels from fellow winemakers from the Medoc region (France), as well as eight wooden barrels with a volume of 4000 to 5000 liters.
Berry lambics from the Lindemans brewery. Such tastes as — cherry, raspberry, peach, black currant are presented.
The Zötler brewery has also expanded its line of German beer. Founded in 1447 in Rettenberg, Allgäu, this is the oldest family brewery in the world and has been run by the Zötler family for the twentieth generation.
From the brewery De Dochter van de Korenaar came bold new products such as Orient-Ale (Orient El) — a hybrid of sake and beer; Noblesse V.S.O.P. (Nobless V.S.O.P.) — a blond that is aged for 8 months in Filliers jenever barrels and 8 months in bottles); Crime Passionnel (Crime Passionnel) — An original wheat IPA with a spicy-creamy aftertaste and lots of tropical fruits).
Date: 02 February
Views: 250
Tell friends